Let's talk about the current transportation options to get to El Nido: either by air, by sea or by land, we will provide all the details you need to know, such as costs and duration, to not worry a thing about your next trip!
---
Direct flight to get to El Nido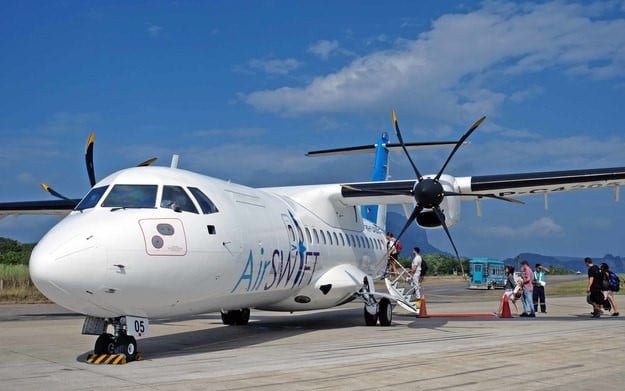 The most direct way to come here is to fly to Lio Airport, located about 4 kilometers from midtown.
Air Swift (formerly Island Transvoyager Inc. ITI) offers daily flights offers daily flights to El Nido. Flights operated by Air Swift depart from Manila, Bohol, Boracay, Cebu, Clark, and Coron (Basuanga).
From Lio airport, you can take a 20-minute tricycle ride going midtown or Corong-Corong. A tricycle ride from our resorts to Lio airport costs P400 for 2 persons. Or a private van P1000 for 6 persons max.
Land travel from Puerto Princesa
If you come to Palawan by Puerto Princesa city, you will have to cover about 220 kilometers of highway to get to El Nido. You can either choose to take a van, a bus or rent a car/a motorbike according to your preferences and budget.
Van
We warmly recommend to raise your request to DaytripperPalawan. They will drive you safely and comfortably seated in their executive vans/coaches. The trip usually takes 5-6 hours. Other van companies also leave daily from the Puerto Princesa airport.
Bus
Two companies ply the Puerto Princesa-El Nido route every day. We highly recommend Cherry Bus, a reliable company that offers AC bus. It takes about 6-8 hours, depending on how many stopovers the bus will take on the way.
Rentals
You can also take the road by renting a car or motorbike and discover the Northern part of Palawan by your own. But be prepared: this can be a long trip, full of hassles (cows, dogs, water buffaloes, potholes, etc). Do not travel at night and be extremely careful!
Get to El Nido by boat from Coron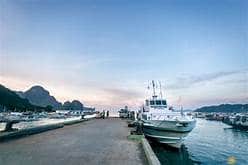 Many travelers choose to combine a visit to El Nido once in Coron. A common way to move from one island to another is to travel by sea. Our resorts are located a few minutes ride from the boat terminal.
High-speed ferry
Boat trips from Coron to El Nido and vice-versa are operated 4-5 times a week through a high-speed ferry line (Montenegro line). As these shuttles are weather dependent, cancellations are quite common on this route. The trip may take up to 4 hours and costs around P1,800.
Tao Philippines
If you have more time ahead, you may want to travel with Tao Philippines. Their expeditions explore hundreds of remote islands between Bacuit Bay and Coron. It's a beautiful experience, and you'll be lucky to set foot on undeveloped tropical islands untouched by tourism!
New to El Nido?
If you have any questions regarding your stay in El Nido, we invite you to contact us directly through our hotels pages: Coco Resort or Moringa Resort. Our dedicated staff will be happy to help you plan your stay!