Post updated on September 29th, 2020
El Nido is known to be the favorite tourist destination in Palawan, because of its outstanding beaches, towering limestone cliffs, scenic mountains, enchanting lagoons, and many more… When planning to visit El Nido, don't miss the chance to book one of The 7 Wonders of El Nido for Island Hopping!
---
Island Hopping becomes the Seven Wonders of El Nido
Big changes in Island Hopping tours: tours A to D are no longer existing… Instead, Island Hopping tours have been rebranded The 7 Wonders of El Nido and there will be not 4, but 7 tours to choose from – including 3 premium tours for the most popular destinations, with a specific booking system. You will be able to enjoy 3 destinations, and up to an hour and a half at each destination on tours, morning or afternoon. Combination tours are no longer allowed, meaning that visitors are expected to visit only destinations scheduled on a given tour.
Premium tours
Premium tours will certainly be your first choice: including the most popular and wonderful destinations of Bacuit Bay, you will need to book your tour in advance to make sure you can enjoy it!
Tour 1 – Big Lagoon Premium tour: Big Lagoon, Shimizu Island and West Entalula (maximum of 60 people at a time).
Tour 2 – Small Lagoon Premium tour: Small Lagoon, Payong-Payong beach and Secret Lagoon (maximum of 30 people at a time)
Tour 3 – Mystery Island Premium tour: Matinloc Shrine, Hidden Beach

and

Secret Beach (15 people maximum at a time)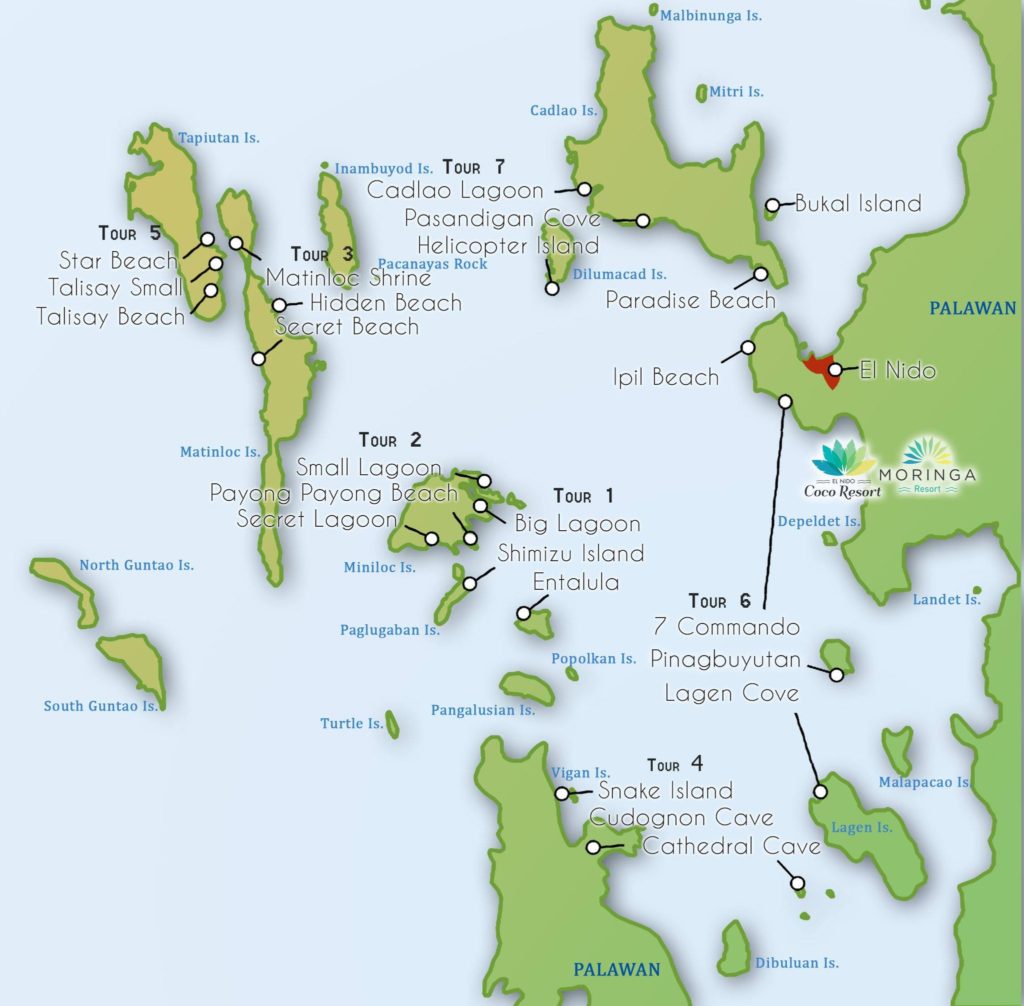 Non-premium tours
Additionally to the 3 premium tours, one can choose to attend a non-premium tour:
Tour 4 – Cave Exploration tour: Cudugnon Cave, Snake Island and Cathedral Cave (maximum of 50 people at a time)
Tour 5 – Tapiutan Strait tour: Talisay small, Talisay Beach and Star Beach (maximum of 30 people at a time)
Tour 6 – History Islands tour: Pinagbuyutan Island, Lagen Cove and 7 Commando Beach (maximum of 75 people at a time)
Tour 7 – Cadlao Channel tour: Cadlao Lagoon, Helicopter Island (Dilumacad) and Pasandigan Cove (maximum of 55 people at a time)
Single destination tours
For those who want to take their time and enjoy beautiful beaches as well as snorkeling spots, single destination tours are the best options to consider! With a 3 hours set, one tour can definitely fill a half-day of activities.
Tour 8 – West Entalula (maximum of 30 people at a time)
Tour 9 – East and Main Entalula (maximum of 100 people at a time)
Tour 10 – Papaya beach (maximum of 115 people at a time)
Bacuit Bay cruise
For those who can't avail island tours, a solution would be to book a Bacuit Bay cruise! This tour brings you to multiple and unlimited destinations, at the difference it's only intended for sightseeing (no stop on islands). With the Bacuit Bay cruise, you will be able to enjoy a full day at sea, and see most part of the magnificent Bacuit Bay!
Interested to visit The 7 Wonders of El Nido?
Planning to picking one of the "The 7 Wonders of El Nido" tours? Check out our partner Bellitta Tours  offers on their website or Facebook page for more information!  
Already in town? Don't hesitate to visit the Tourism Office located downtown to arrange a tour by yourself – address: Real St, Barangay Buena Suerte, El Nido (official website: El Nido Tourism).